From the first moment that I saw the name of the winery, "Cellar 4201," on the North Carolina map, I was intrigued. The name reminded me, strangely, of the vaults from Fallout, and I half-expected to come across some sort of bomb-shelteresque hole in the ground a la Vault 101: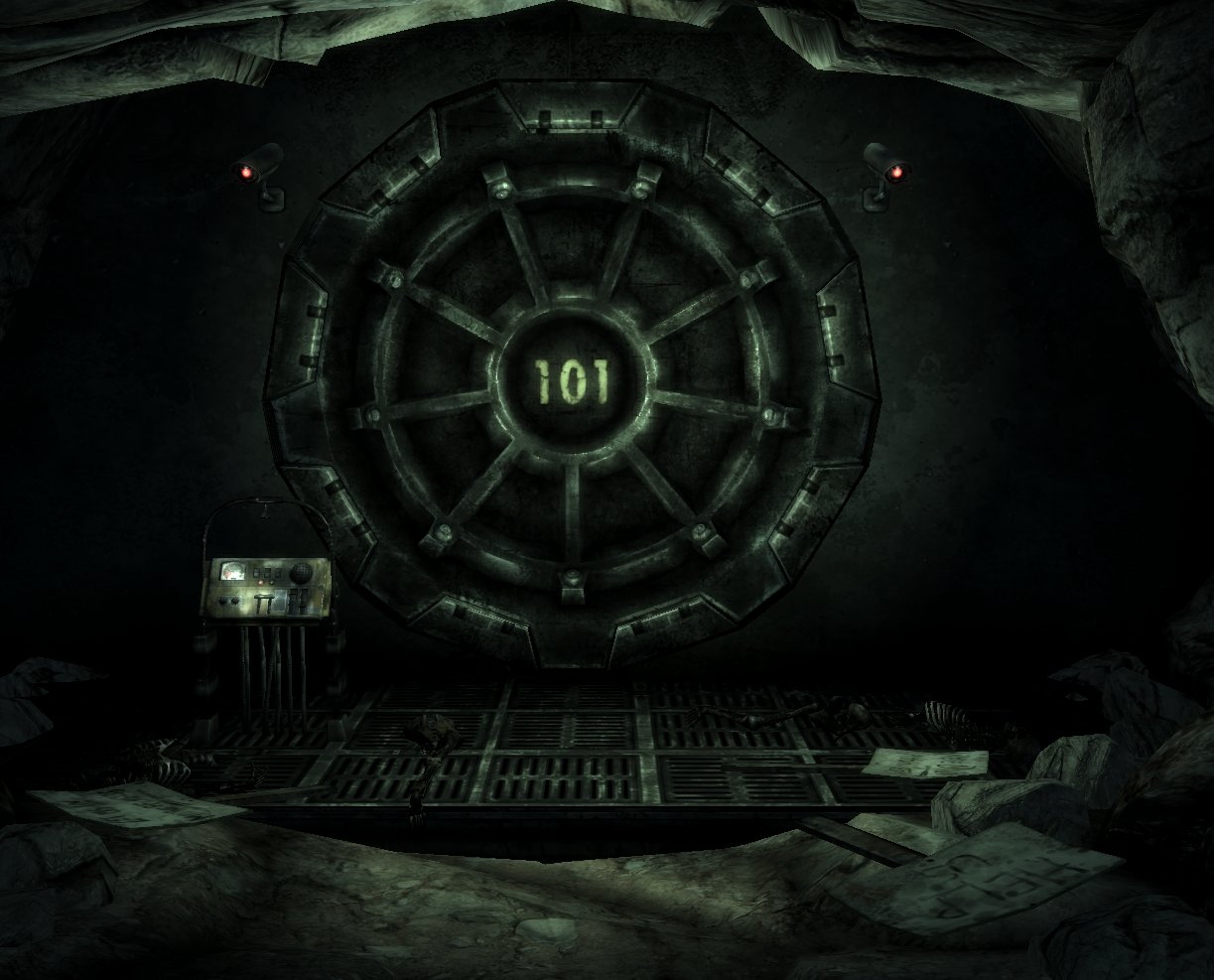 Instead, you're greeted by an elegant wooden door surrounded by sub-tropical plants and set in a cottage-like tasting room that seems yanked directly from Italy's Piedmont countryside:
Words cannot convey how intrigued I was by this winery simply because of the name. Mysterious, entirely non-descriptive, and surrounded geographically by quirky names like Divine Llama and Rag Apple Lassie and old standbys like Shelton Vineyards and Flint Hill, Cellar 4201 provoked every curious bone I had in my body (206 I believe is the current scientific count). Looking at the pictures from their website only made me even more intrigued.
Oh, and by the way, that pour they put in the montage on the home page? That's actually about the pour you get if you pay for a glass of wine. All their wines are only $5 by the glass, and you get to keep the glass as a souvenir every single glass you buy. They, uh, they take care of their customers.
The owner, Greg, was out straightening up the patio when we arrived; he gave us a friendly welcoming, and we started conversing. He gave us a rundown of the history of the vineyard, about how he and his wife, Donna, developed their passion for wine through traveling and decided to bring their favorite varietals from France and Italy to North Carolina. While they've been growing the grapes since 2003, their tasting room has only been open for a year. They took plenty of time to ensure their wines were top quality before they invited the public in. He also explained the name and the label; rather than gussy up the winery's name, they wanted to quite simply describe what they were, a wine cellar located at 4201 Apperson Road. All their labels feature an arrowhead, an homage to Donna's Cherokee heritage. The vibrant orange that runs through their label, their logo, and the flora on-site stems from Donna's affinity for that color.
While we talked, Greg began to pour a tasting for us. He described the intent behind each wine, each vintage, explaining why things tasted the way they did. Far from a hands-off owner, Greg planted himself firmly in the winemaking, though he defers to the knowledge of Sean McRitchie, a second-generation winemaker from McRitchie Winery and Ciderworks, whom he recruited to lead the process.
Halfway through the tasting, Greg had to leave to attend to his other business, but his tasting room partner and best friend Aaron continued the customer service. With a sleeveless shirt, tribal bicep tattoo, and a deep tan, Aaron struck me more as a rugged, outdoorsy type than a tasting room attendant, but he quickly demonstrated his passion for and knowledge of Cellar 4201's wares as he poured the last wines. Aaron described how, after a long friendship spanning decades ("We've never had cross words for each other," he proudly told us), Greg recruited him to help follow his dream and create the vineyard. They attended classes together, conducted blind tastings, and otherwise educated themselves on the varieties they planted. Now, they harvest the grapes, make the wine, and pour the wines together as a seamless duo.
Gotta stop before I write too much again. How about the wines? None are over $15, and all are absolutely fantastic. Small lots are maintained from 5 total acres of vines, and their wines are 100% estate-grown, meaning all the wine gets plenty of attention throughout the process.
Cellar 4201 is a winery after my girlfriend's heart. She's a big red drinker, lover of Bordeaux, and very particular about her white wines. Completely flying in the face of the typical North Carolinian palate, Cellar 4201 offers only two whites (neither of them sweet), and the rest of their wines are classic left-bank Bordeaux reds and an Italian red and off-dry Rosé, both single varietal Sangiovese.
09 Stainless Steel Chardonnay – Offers a bright nose of citrus, primarily pineapple, with a surprisingly full flavor of citrus and tropical notes and a very light perceived sweetness balanced by a superb, soft acidity. Finish is medium-long and tastes like lemons. 7/10
06 Barrel-aged Chardonnay - Spent 9 months in older French and American oak, imparting a very light oak on the nose and flavor. Tropical notes still come through on the nose, and the flavor introduces a slightly buttery characteristic as well as tropical and spices. The wine has a beautiful mouth-soaking texture, incredibly smooth and firm. 7/10
NV Sangiovese – A quick note about the non-vintageness of this wine, straight from Greg: in 2007, frost killed almost all of their Sangiovese, leaving them with just 100 gallons after winemaking. Rather than bottle this as is, Greg decided to barrel-age the whole lot for an additional year, 2 years total, blending it with the 2008 Sangiovese after it had aged for a year.
The result is, in my opinion, the best wine they currently offer. A deep reddish-purple color like the skin of a black cherry, offering a light pepper and smoke that gives way to a rich black cherry flavor. The oak provides an incredibly nuanced, velvety texture while hardly encroaching on the pure flavor of the grapes. The tannins are chalky and delicate, offering a surprisingly smooth red wine that was perfect for sipping out in the sun. 8/10
Also, why Sangiovese? From the about us section: "After traveling to Italy, Donna developed a passion for Sangiovese. While admitting it is difficult to grow, it is currently our signature wine." Simple.
2006 Merlot - With a nose of brisk cherry and black pepper, the Merlot hardly exhibits the 10 months it spent in French oak. It has a great structure, perhaps a bit lighter than a typical Merlot, but the flavors and texture are simply delightful. 7/10
2006 Reserve Merlot - With their Merlot, they split the vintage, oaking one twice as long as the other. Thus, the Reserve Merlot has all the characteristics of its purer brother, but with a palpable, pleasant oak characteristic. The flavor is fuller, darker, with cherries and pepper just bursting onto the palate. The texture is fuller as well, coating the mouth very nicely. Both styles are equally delicious and affordable, so choosing a Merlot is as simple as figuring out how full you prefer your reds to be. 7/10
2006 Cabernet Sauvignon - Very smoky nose. Complex flavor of dark fruits, tobacco, and wood with a smoky finish. Beautiful full flavor and texture. 10 months in French oak softened it without masking the flavor. 7/10
2006 Reserve Cabernet Sauvignon - With a fuller dark fruit flavor, light oak on the nose and palate, remnants of the smoky and woody character of its lighter brother, and a raisin quality on the finish, the 2006 Reserve Cabernet takes 20 months in French oak in stride. Great texture on this one. 7/10
2006 Sweet Native - The one concession Cellar 4201 has made to the sweet-drinking crowd, the Sweet Native is an off-dry Rosé from 100% Sangiovese with 3% sugar. The flavor is an array of citrus and red fruits, with a pleasantly crisp acidity and a decidedly non-syrupy texture. As Mr. Drink Pink, I approve. 7/10
This post accompanied by a bottle of the Cellar 4201 Reserve Cabernet Sauvignon. I made it almost 4 days without opening it.